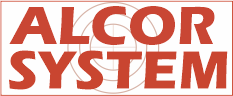 - 8.3 millions pixel monochrome progressive scan detector with 16 bits digitization
- Cooled CCD minus 25°C from ambiant
- Digital USB 2.0 output with 20 m cable length
- 185°x185° fisheye field
- Snapshot with long exposure mode
- Active and automatic dome defrost
- Full anodized aluminium casing, water tight box and connectors.
- Embedded 5 position filter wheel (user can choose which filter to integrate, great flexibility)
- Lens auto-iris and focuser remote control
- Daylight imaging with neutral filter and short exposure
EUDA all sky camera is our high-end camera for profesionnal use, this is an oustanding product that does not have any equivalent elsewhere
Here is a link where EUDA camera from customer can be seen running real-time (only during the night), the link of the product DOCUMENTATION is here.
The purpose of these systems is to carry out All or Full Sky (180°x180°) surveillance of the night or day sky, and in a continuous fashion. It is possible to assess, in real time, the night sky quality, and to record fast phenomena (meteors and fireballs) or slower (satellites, rockets, noctilucent clouds, zodiacal light, aurora, airglow ....).

Thanks to its high sensitivity, this system can record a very good image quality of the night sky, while producing images of stars that will not be trailed by natural Earth rotation, no star tracking is required.
Here is a PDF file describing how our ALL-SKY camera can be used for (application fields)
See HERE a real time view of some of our ALL SKY camera running worldwide.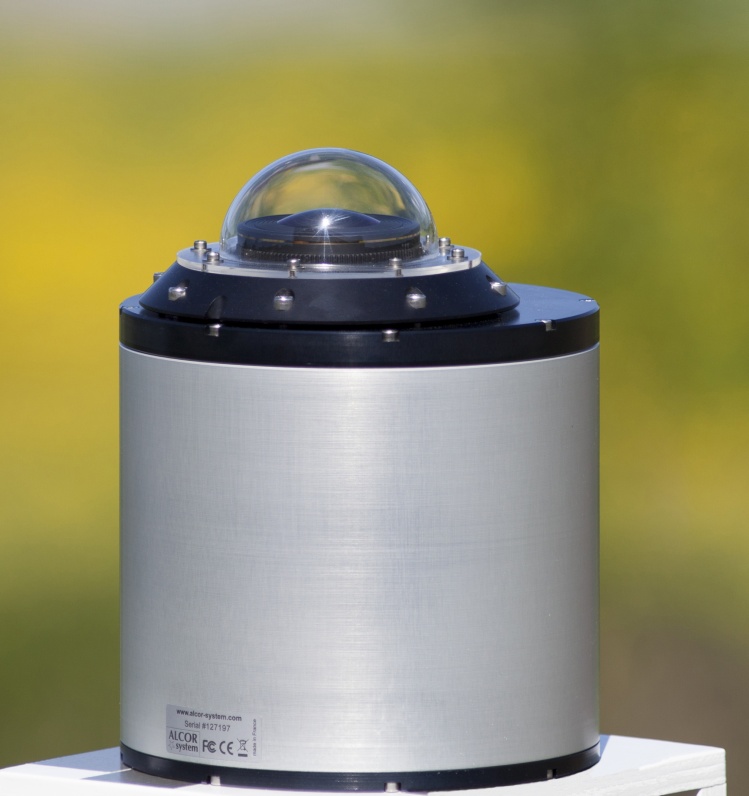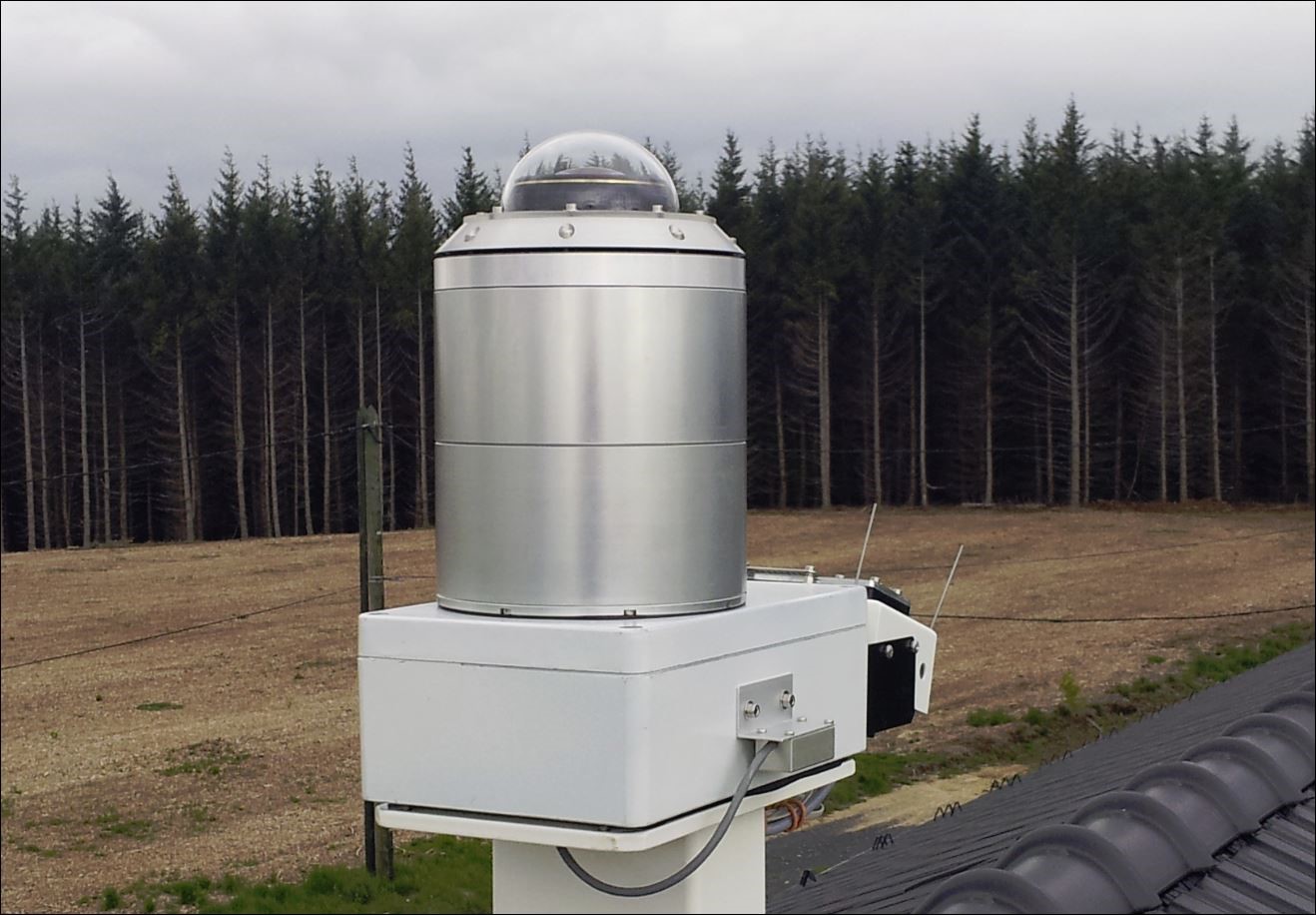 EUDA-8M on customer's site
EUDA-8M Camera images from a dark site in the northern hemisphere (25 sec exposures) Click over images to get full resolution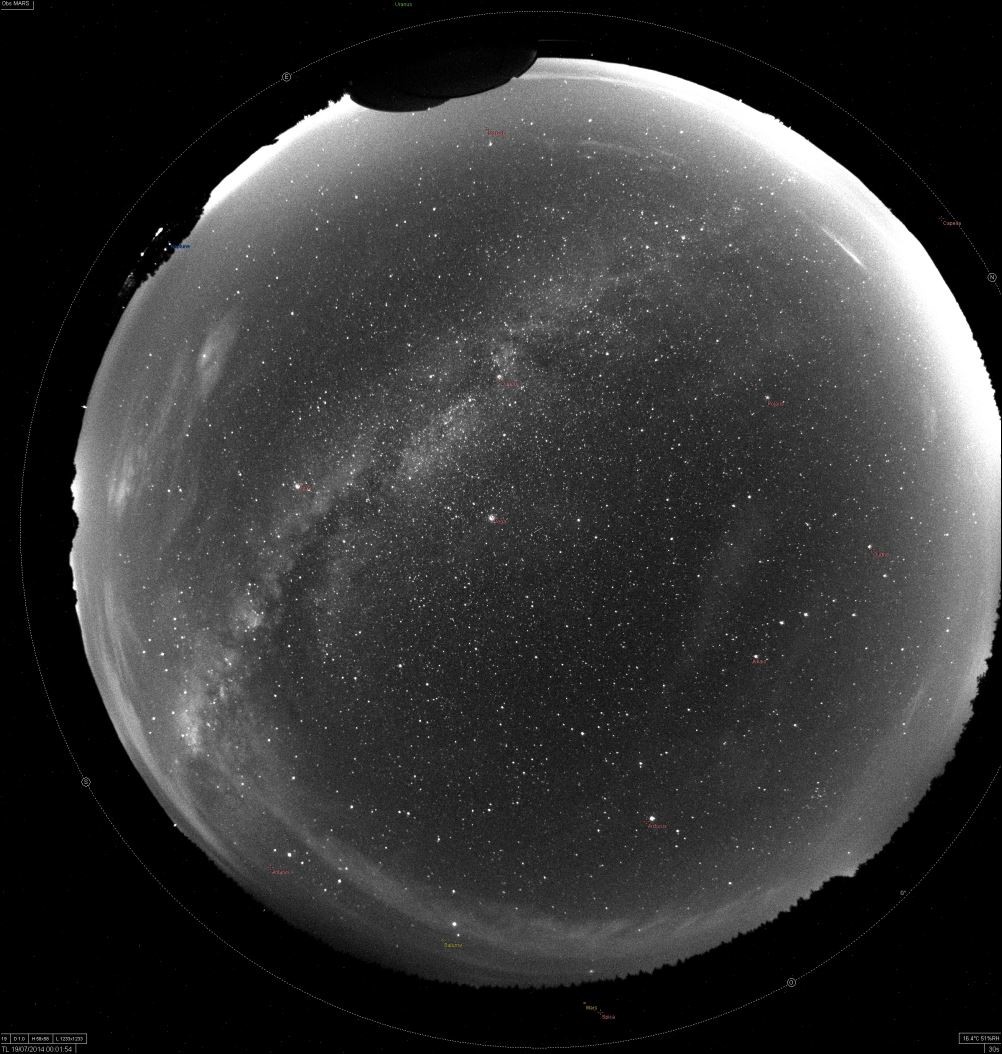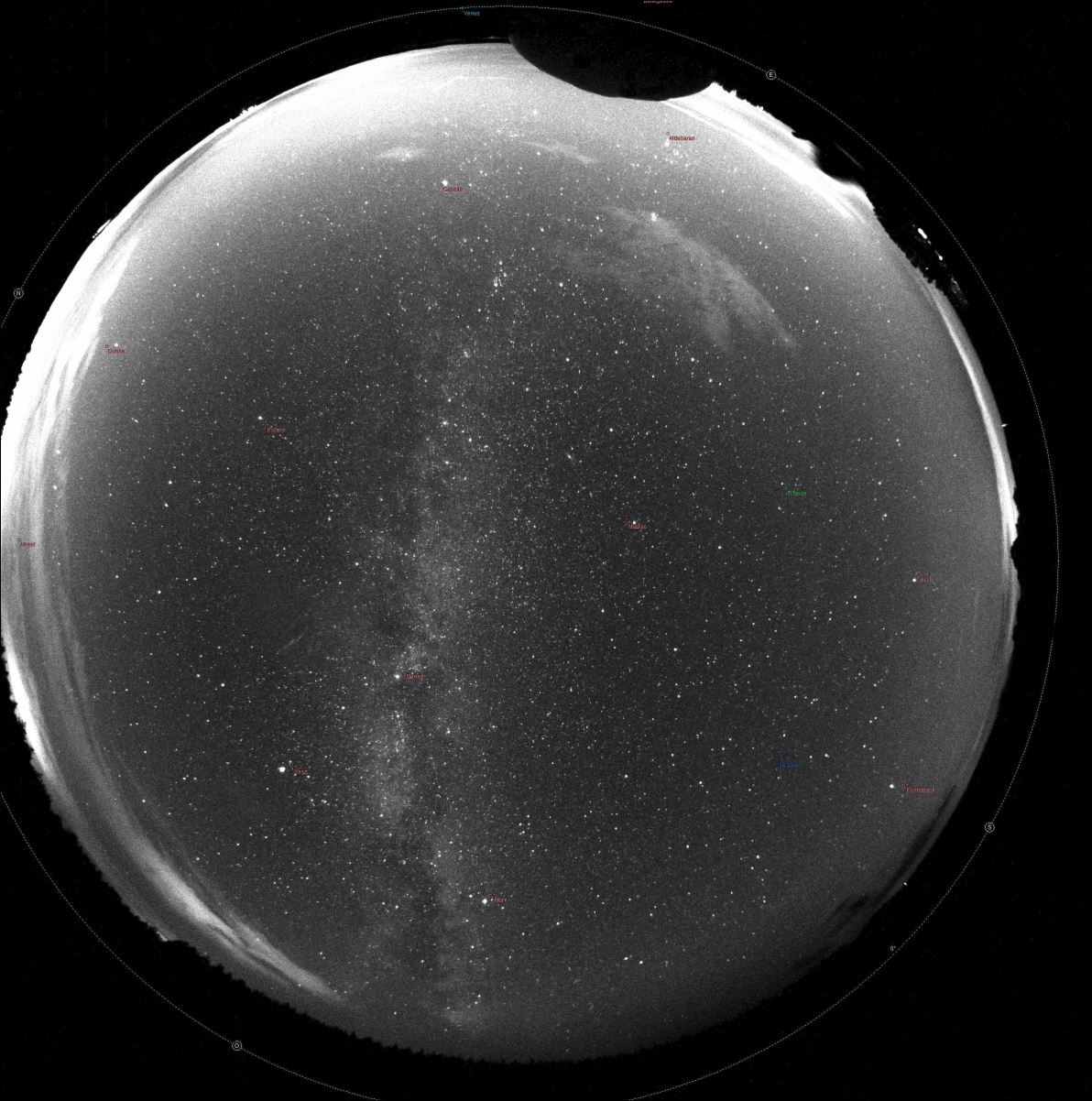 EUDA-8M Camera image, click image to get full resolution image, 25s exposure (light pollution is really visible)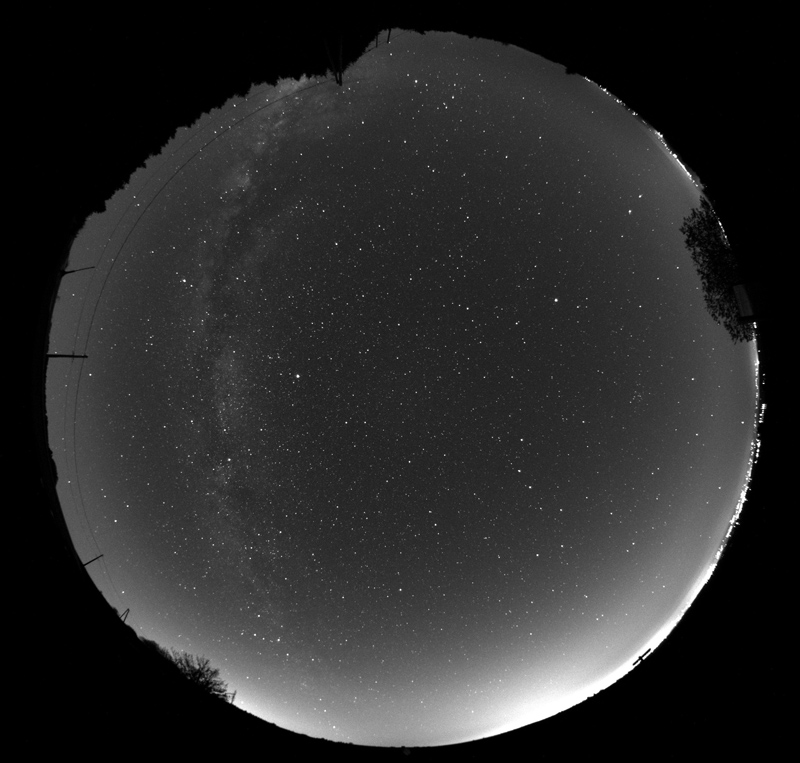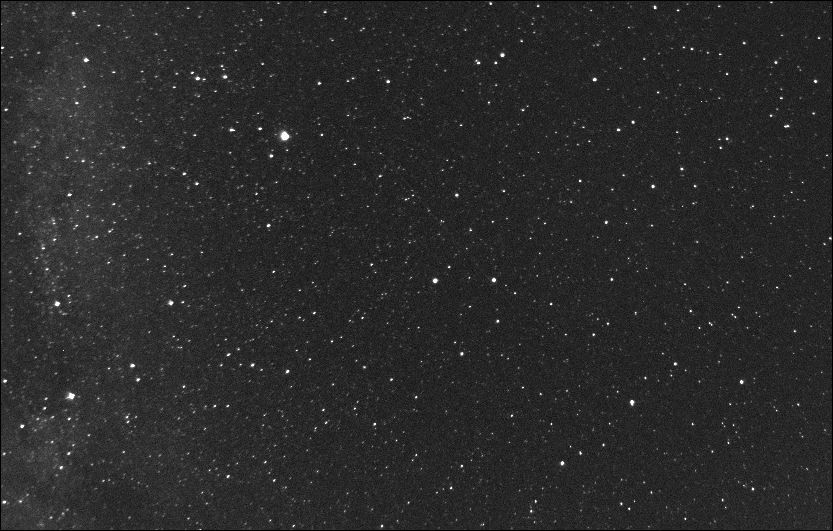 Other Applications
Thanks to the filter wheel, number of applications can be increased, with all Sky imaging. The first top image shows a visible sky, where no clouds whatsoever can be seen. Below is an image with a 800 nm low pass filter, showing OH and IR glow, where high altitude wet clouds can be seen at the same night and time :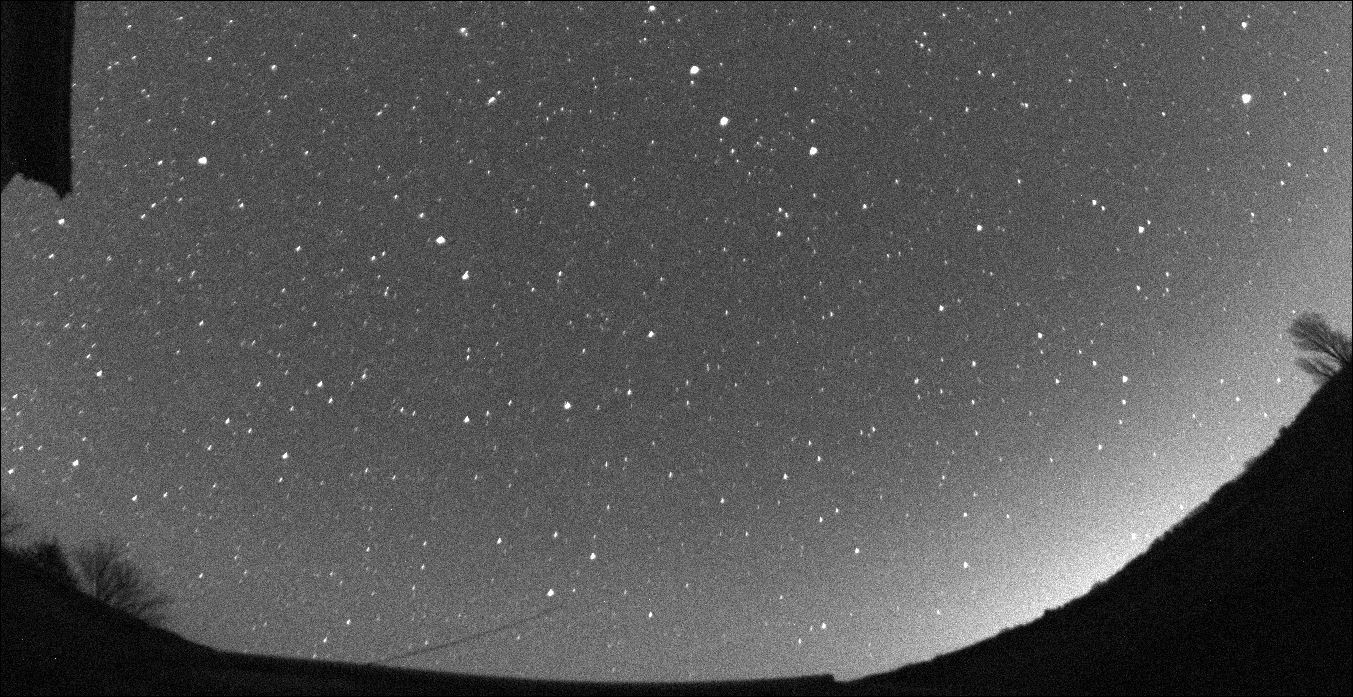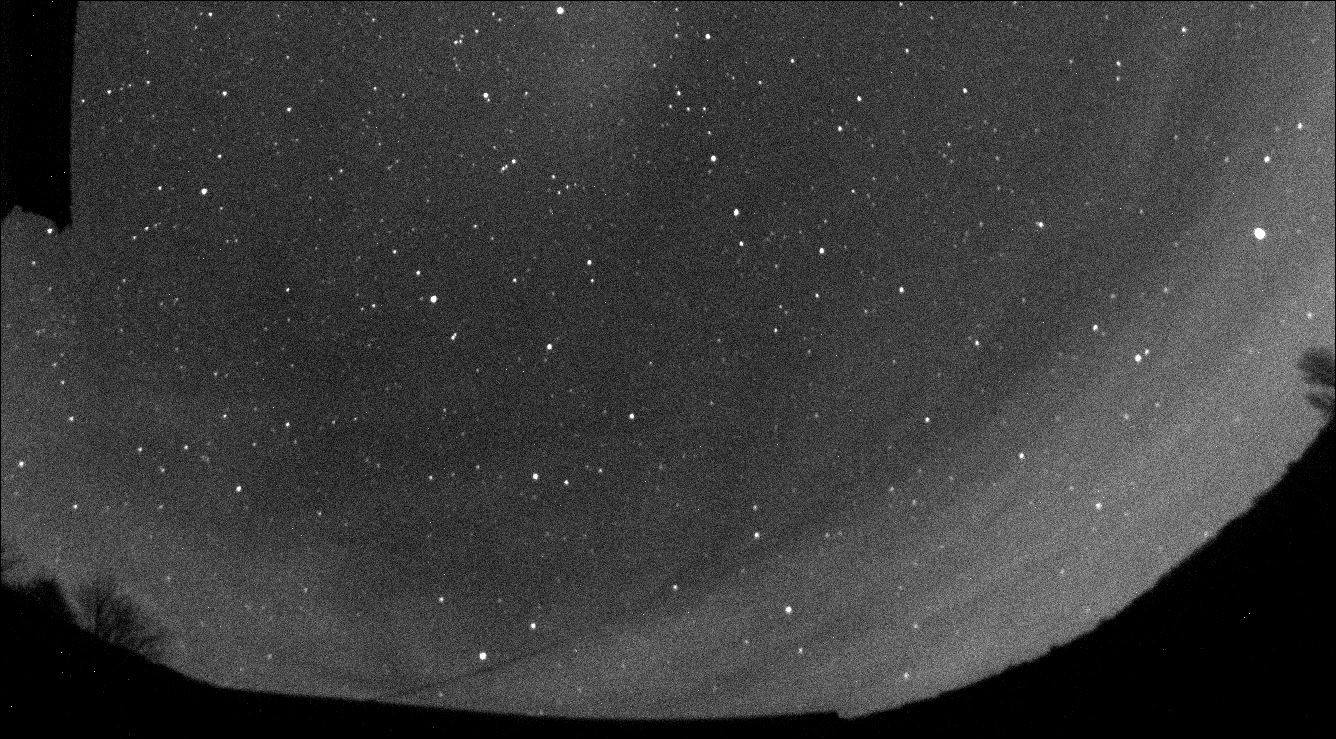 Also ALL-Sky spectrography can be achieved by putting a Grism, this allows spectrography of fireballs. In the next sample, this is the spectrum of Jupiter (positive and negative image) :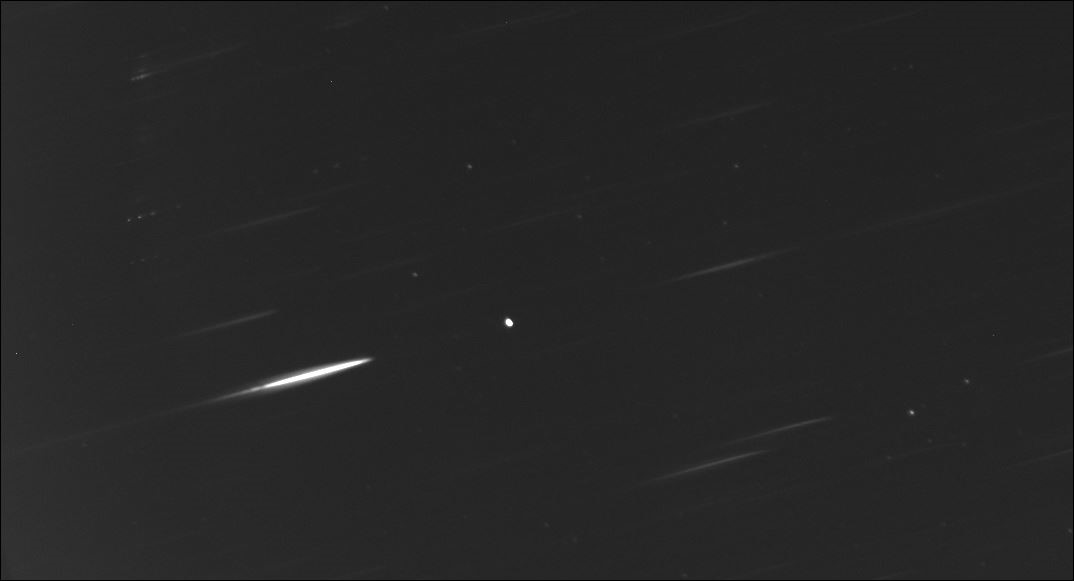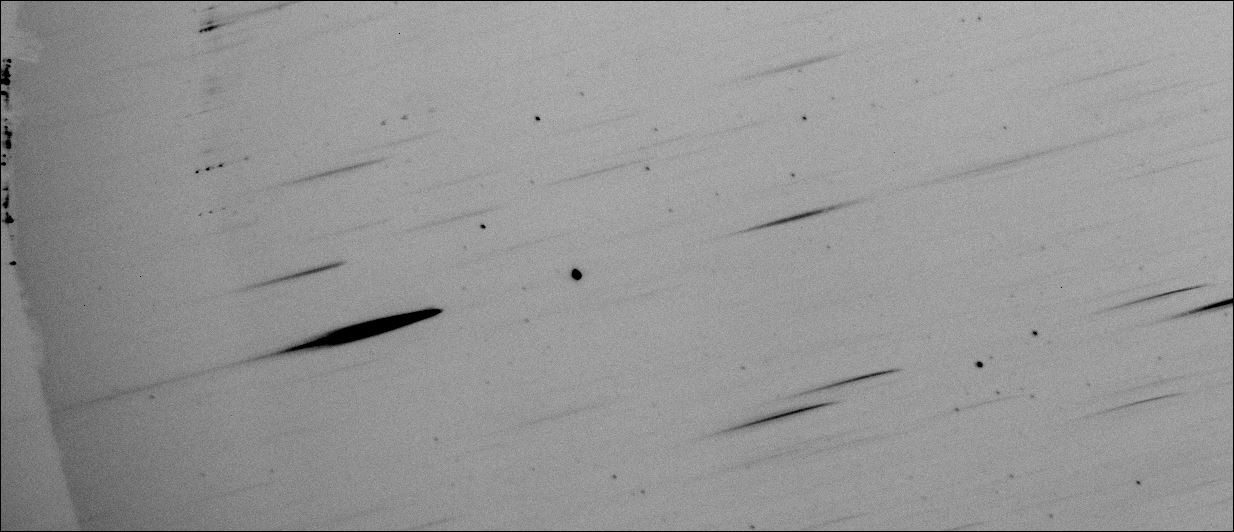 Parameter

Value



Field of view


185 ° x 185 ° fisheye lens, focal length f=4.5mm f/2.8,3.5 arcmin per pixel

Factory focused and tilt tuned with respect to the whole CMOS Sensor field



Camera resolution




4144 x 2822 (8 Mpixels) 4.63 x 4.63 µm CMOS pixel monochrome and antiblooming sensor




Dynamic range


14 bits




Video stream




Capable




Exposure time




From 30µs to one hour exposure (all sky mode, typically 10 to 25s)




Gain




Variable from 3 e-/ADU down to 0.03 e-/ADU

Cooling

CMOS detector cooled, minus 30 degrees from ambiant max




Image download time




150 msec




Auto-iris




Embedded




Control software




Windows AllSky software supplied at no additionnal costs, SDK on request




Operating system


Windows (Seven, 8, 10) 32 & 64bits

Linux (contact us, SDK available)



To PC interface




USB 2.0 / 20 m length cable, perfectly reliable operation. Ethernet link on request.




Top dome heater


Automatic dome defrost based on external sensor
(18W to 36W depending on weather conditions / place)



Power supply




24V / 3.5A

Dome

BK7 Glass optical dome

Filter wheel

5 positions 32 mm filters, up to user to choose which filter to install (Grism can also be put), this can be L,R,G,B , IRcut or Sloan filters


Daylight imaging

Possible

Auto-iris

From F2.8 to F22, remote control + automatic setting in Software

Focus adjustement

Possible, from remote software control, auto filter thickness focus shift compensation




Other informations




Tight to bad weather condtions (rain/snow), anodized aluminium casing, glass dome, water tight connectors / IP67 protection




Weight




9 kg




Dimensions




190 mm diameter to 250 mm height




Operating temperature range




from -40°C to +45°C
Ordering information :
•
Please contact us for information and pricing concerning this camera.


Application fields of this camera are (in a nutshell) :

- Astronomy
Cloud cover and transparency map, Robotic telescopes farms, no mobile parts.

- Free Space Optics (FSO) communication
Cloud cover and transparency map, Site survey, Network architecture design and balancing

- Atmospheric studies
Atmospheric transparency, urban light pollution monitoring, northern lights, passive optical sensing. Network of AllSky camera

- Defense
Realtime and passive optical detection for satellite re-entry, planes and drones. Network of camera to cover larger territory

- Solar Power
Cloud cover, transparency map, site survey and power production forecasting.
Software
Either our custom made Alcor System software or
SDK can be provided so that any custom algorithm can be implemented by the end user.



Parameter

Value



Field of view


185 ° x 185 ° fisheye lens, focal length f=8mm f/4, 1.6 arcmin per pixel

Factory focused and tilt tuned with respect to the whole CMOS Sensor field



Camera resolution


9500 x 6300 (60 Mpixels) 3.8 x 3.8 µm BSI CMOS pixel
monochrome and antiblooming sensor



Dynamic range


16 bits




Video stream




Capable




Exposure time




From 30µs to one hour exposure (all sky mode, typically 10 to 25s)




Gain




Variable from 0.8 e-/ADU down to 0.05 e-/ADU

Cooling

CMOS detector cooled, minus 30 degrees from ambiant max




Image download time




200 msec




Auto-iris




Embedded




Control software




Windows AllSky software supplied at no additionnal costs, SDK on request




Operating system


Windows (Seven, 8, 10) 32 & 64bits

Linux (contact us, SDK available)



To PC interface




USB 2.0 / 20 m length cable, perfectly reliable operation. Ethernet link on request.




Top dome heater


Automatic dome defrost based on external sensor
(18W to 36W depending on weather conditions / place)



Power supply




24V / 5A

Dome

BK7 Glass optical dome

Filter wheel

5 positions 48 mm filters, up to user to choose which filter to install (Grism can also be put), this can be L,R,G,B , IRcut or Sloan filters


Daylight imaging

Possible

Auto-iris

From F4 to F22, remote control + automatic setting in Software

Focus adjustement

Possible, from remote software control, auto filter thickness focus shift compensation




Other informations




Tight to bad weather condtions (rain/snow), anodized aluminium casing, glass dome, water tight connectors / IP67 protection




Weight




12 kg




Dimensions




197mm diameter to 250 mm height




Operating temperature range




from -40°C to +45°C